10 Original Business Cards Quotes and Saying Ideas
Putting quotes on business cards is an excellent way to attract more customers, drive more traffic, and inspire others.
Business card quotes or sayings can prove effective in many ways.
For example, inspirational quotes in your will leave customers with something to ponder about and connect with. Additionally, funny business card quotes will leave people with a laugh, good mood, and positive picture of you and your business in mind.
Why Put Quotes on Business Cards?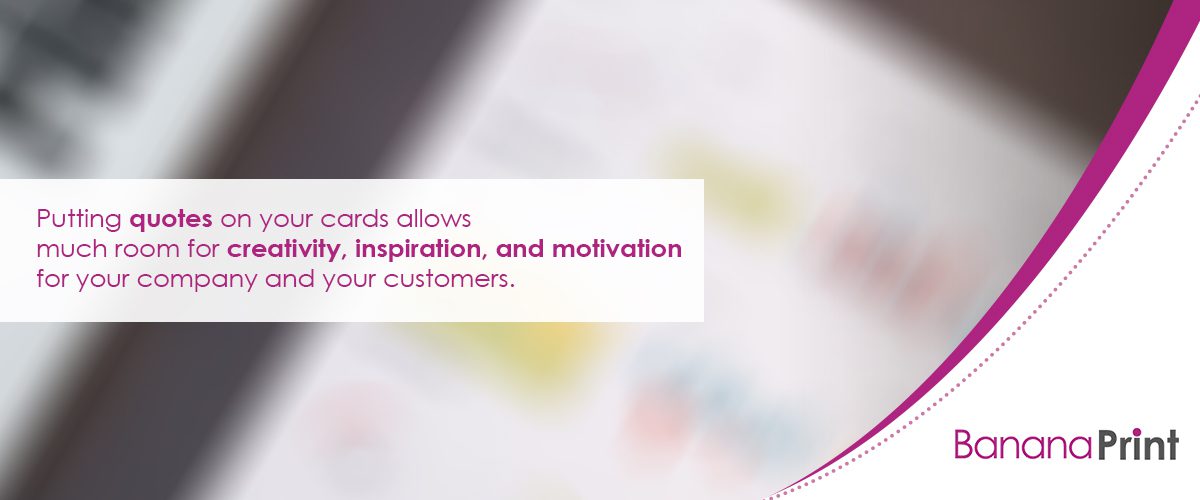 Whether they are wise back of business card sayings or creative business card design quotations, putting quotes on your cards allows much room for creativity, inspiration, and motivation that will touch both your company and your customers with inspirational business thoughts.
People want to make investments in companies with values. Moreover, it's important for your team to be reminded of what those values are in the midst of all the work.
Inspirational, funny, or motivational quotes that appear on the first thing potential customers see as well as on something that represents your company will display your corporation's values, philosophies, and mottos.
Potential Partnering Companies Want Someone Professional and with Success in Mind
When in a meeting with other managers, directors, CEOs, and many more important people of fellow businesses, one of the most basic things both companies will do is exchange business cards.
While it's definitely important and obvious to include contact information, names, and some creativity with a logo, companies are looking for professional character and someone who seeks success, but also knows how to achieve it.
By including a quote with your own philosophy and a motto you live by, companies with your card will see what you stand for.
For example, the famous quote by Benjamin Franklin, "failing to plan is planning to fail," would be a professional outlook on life and the way your company does business.
Potential Customers Want Someone They Can Trust
Once again, displaying your core beliefs, values and character show who you are as a corporation.
For most businesses, the impression you are striving to make is that you are a serious, prepared, and successful person who knows what they want and how they're going to get there.
Customers, however, want to know that the person they might be giving their money to is someone they can trust.
When appealing to customers, the businessperson should strive to create an attraction to the product or services, a feeling of trust, and a personal appearance.
Knowing Your Audience Is Extremely Important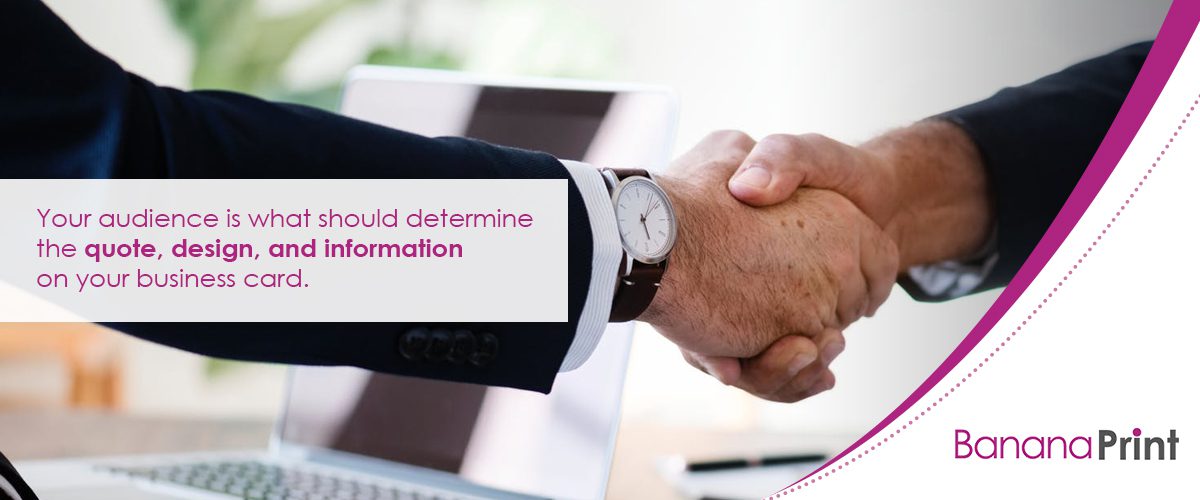 Your business card is designed to appeal to certain people you want to attract to your business. Deciding which quotes and sayings to put on your card requires knowledge of who your ideal audience is.
If you're a company that offers party or event planning services, your audience would be consumers who will trust and hire you to plan their events. Therefore, your audience is the consumers, or, potential customers who want organization, a plan, and strategy.
If your company works and partners with international businesses, is working to spread awareness to a cause, or attempting to introduce a new idea to the market, the audience would be fellow entrepreneurs and corporations. Therefore, you know they are looking for a more professional appearance.
Your audience is what should determine the quote, design, and information on your business card, and if your company might be dealing with both audiences at certain times, there is no need to worry.
There are several quotes and saying ideas that are back-of-the-card worthy that can give a little bit of both impressions.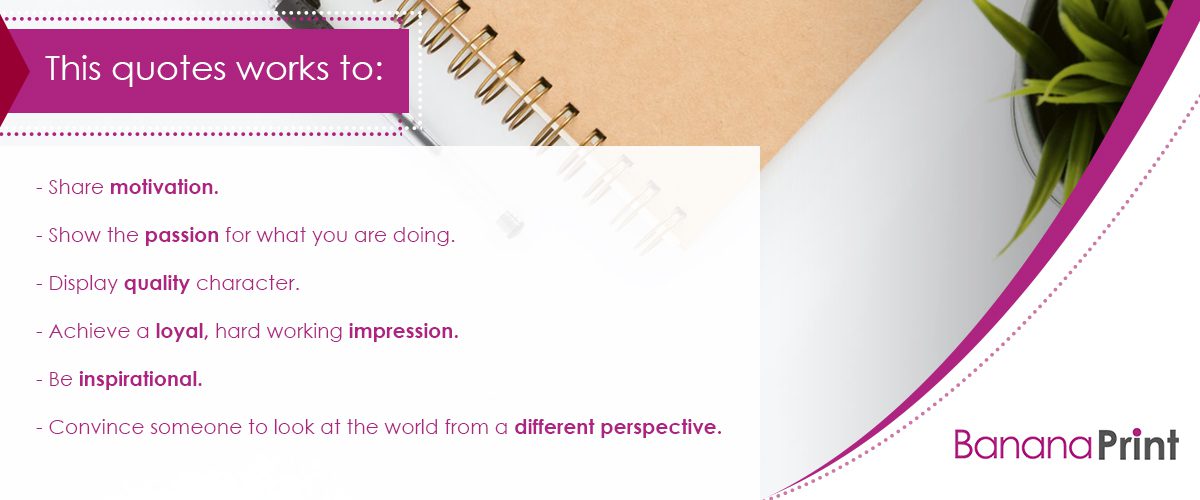 1. "There Are No Secrets to Success. It is the Result of Preparation, Hard Work, and Learning From Failure." – Colin Powell
This quote works amazing when trying to appear to rising companies, training up other entrepreneurs and small businesses, or targeting an audience of people trying to grow their own businesses.
Serving mainly as motivation, this quote will show the public what drives you to do what you do, how you've come so far, and how you continue to learn. A great professional and personal work ethic is described here, where growth, dedication, and diligence is demonstrated.
2. "Don't Wait for the Right Opportunity: Create It." – George Bernard Shaw
This is another example of how a quote can speak volumes about your company's outlook and passion for what you are doing.
If you want to create a professional, but definitely personal impression, this saying by George Bernard Shaw will give your potential customers trust in the fact that you love what you're doing and are looking to serve them and place their needs first.
3. "Losers Quit When They Fail. Winners Fail Until They Succeed." – Robert Kiyosaki
Talk about a way to display quality character!
This quote communicates to your audience that you are a business and person dedicated to doing their job diligently. You are here for a reason. You have a goal and a vision for the future, and you won't allow yourself to stop until you've accomplished it and more.
This is also a great motto to share with your team. By placing this quote on your business card, you are proudly displaying your confidence in your company, the dedication you have to customers and your team, as well as motivating everyone involved.
4. "Success Comes from Delegating, Risk-Taking, and Having a Good Team." – Sir Richard Branson
Quote number four is similar to the one above and works great especially if your audience is fellow businesses and corporations.
The definition of an entrepreneur in economic terms is "a risk-taking individual who introduces new products or services in search of profits." I believe the keyword here that is oddly but rightly emphasized is risk-taking.
This quote will appeal especially and strongly to entrepreneurs and businesses alike. If the impression you want to achieve is a loyal, hard-working person who takes risks for their business but has strategic plans and knows what they're doing, then Sir Richard Branson was speaking for you.
5. "If You Want Something You Never Had, You Have to Do Something You've Never Done." – Thomas Jefferson
Doing something you or possibly anyone else has ever done relates to the definition of an entrepreneur: taking risks.
This quote is especially suitable for your business if your audience is people looking for motivation or advice, rising businesses and entrepreneurs, or if you are looking for partnerships that might be risky or you both have a set goal in mind that will positively affect the people, industry, or even the economy.
Overall, this is an excellent inspirational quote. If you wish to inspire other people or impress other businesses, this quote works as a double-edged sword that will bring you both audiences.
6. "If Opportunity Doesn't Knock, Build a Door." – Milton Berle
Once again, this is an amazingly inspirational saying that will inspire anyone who comes across your business to take risks and take action.
Choosing this quote to represent you will indicate to your audiences that you don't wait around for something to happen. You make it happen.
7. "The Value of an Idea Lies in the Using of It." – Thomas Edison
Thomas Edison, one of the most well-known inventors, might be onto something.
We see the repetitive theme of ideas without actions is useless. Your business card could be the inspiration your audience needs to stop dreaming big and start adventuring big.
8. "You Will Never Know Your Limits Until You Push Yourself to Them." – Anonymous
Motivating someone to act now and take risks is a smart and effective way to appeal to your audience and drive traffic faster. Why? Because your business card just persuaded someone to stop thinking, act now, and test the boundaries.
This anonymous quote is well known, but using it as a core value displayed on your business card will encourage potential customers to think outside the box.
Businesses will likewise be impressed by your entrepreneurial outlook and dedication to personal and company growth.
9. "At First They Will Ask Why You're Doing it. Later They'll Ask How You Did it." – Anonymous
Is your niche in self-help, how-to's, personal growth, or encouraging people to take up a difficult task the average person might deem crazy and impossible, such as teaching yourself a foreign language? If so, this quote will work better than any of the others in appealing to your audience.
10. "If You Change the Way You Look at Things, the Things You Look at Will Change." – Anonymous
Convince someone to look at the world from a different perspective. Encourage other businesses to see or address a problem in the industry that you can offer a solution to. Give people trying to better themselves the motivation they need to keep fighting the good fight. Inspire others to stop dreaming and take action towards those dreams.
Inspiring Business Card Quotes Are a Great Way to Make a Long-Lasting Impression on Your Audience.
You want your business to stand out but also prove to your target audience that you represent something they will admire. Putting inspirational quotes on your business cards is a great way to do that.