What Makes a Good Business Card?
Business cards are often your first contact with a potential customer, so they should represent the image of your company you most want to convey.
Because a business card is your first line of marketing when it comes to advertising, you should spend extra time ensuring your cards pack as much punch as possible.
Stop and ask yourself, "What makes a good business card?" Before you move forward with making or purchasing hundreds or these perfect marketing tools.
At a minimum, your business card should be:
Functional
Informative
Memorable
But well-designed business cards can deliver even more impact without taking a big bite from your marketing budget. The trick is to design a business card that takes your company from good to great — without overdoing it.
What Makes a Good Business Card?
Business cards are industry-specific and individual to businesses within an industry, so the elements that make a card work for one business might detract from another.
Let's look at what makes a good business card for your business.
1. Choose the Right Style of Card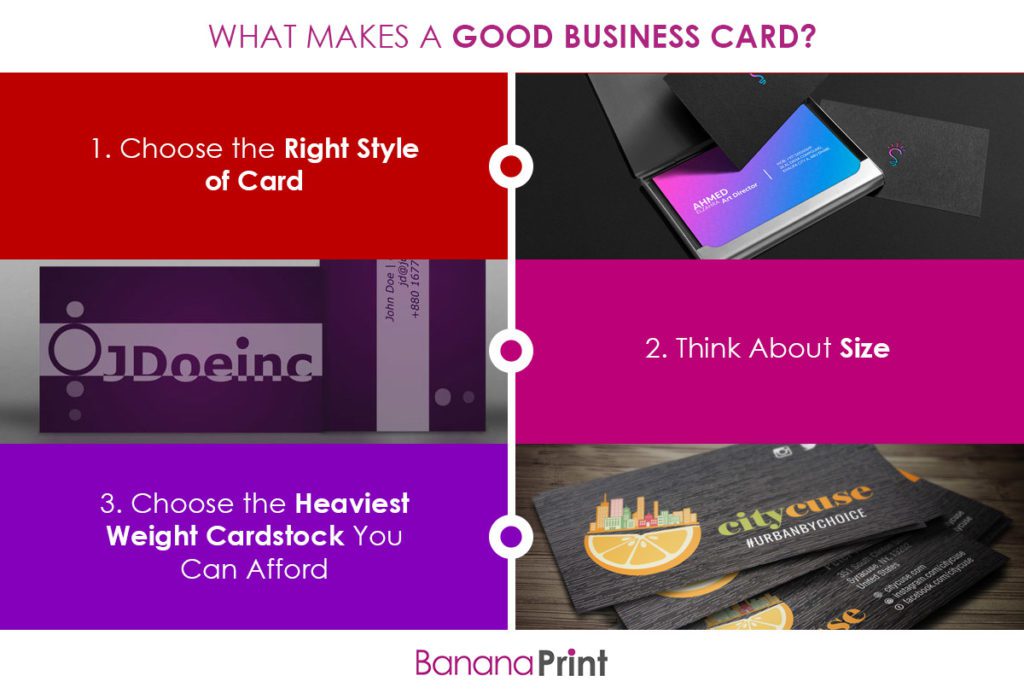 Business cards can be cute, serious, clever, irreverent, or project any number of qualities. When deciding what makes a good business card, it's important to choose the right tone to represent your type of business.
For example, a neon green card would be inappropriate for a lawyer or engineer, yet a serious black-and-white embossed card would not project the vibe an artist needs to emphasize their uniqueness and creativity.
Think about the nature of your business when designing your card.
Choose simple, traditional designs for businesses that deal with money, legal matters, or must inspire customer trust, like doctors, lawyers, and engineers.
Businesses that capitalize on a creativity — artists, designers, actors, and photographers — can create more interest in their work by stepping outside the box in the design of their business cards. If your business falls somewhere between traditional and creative, there are many ways to craft your card to get the attention you want without going overboard, as noted in some of the following tips.
2. Think About Size
Standard business cards are 85mm x 55mm and work well for most applications.
However, you can also choose from scaled-down versions that are 85mm x 42mm or even square ones at 55mm x 55mm for a real stand-out presentation without being garish.
While odd-sized cards are attention-getters, you should think carefully before using them. If your business card is hard to handle or store, it might end up being thrown away.
On the other hand, some odd-sized cards get pride of place due to their unique design. If you're not sure which size to go with, consider performing a customer survey in advance of designing your cards.
This will help you gauge customer reaction and keep you from making what could be a serious design mistake.
3. Choose the Heaviest Weight Cardstock You Can Afford
Heavier-weight business cards give the impression of high quality — a plus for almost any business.
The standard weight is called 80-pound stock, but you can get cards as thick as 400-pound stock for extreme durability and quality.
Other cards come with coatings and textures that can increase their weight and the hand feel of the card.
4. Durability Is a Plus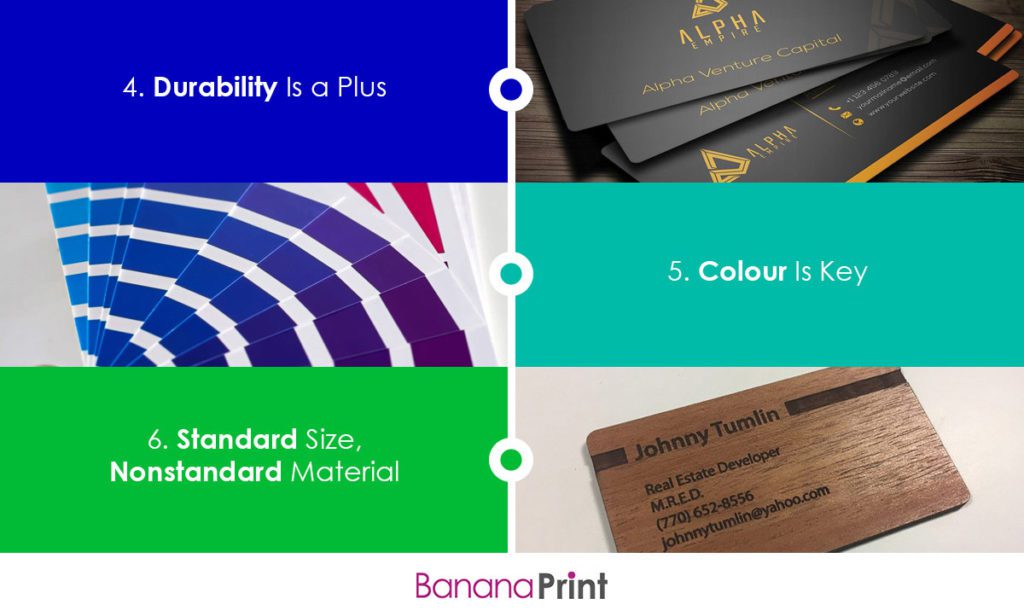 When a business card leaves your hand, it can suffer through a whole slew of environments. From the inside of a wallet to being flung around a car's interior, stuffed into a briefcase, or shoved into a desk drawer — your card might very well take a beating.
If the information on the card becomes illegible due to misuse, it's a wasted business opportunity. To combat this, consider investing in tearproof and waterproof cards like the ones sold at Banana Print.
Strong as a credit card but completely bendable, these cards can stand the test of time and hold up to loads of abuse, leaving your important contact information pristine and easy to read when your customer needs it.
5. Colour Is Key
Most cards are printed in two colours, but you have a choice of almost any number of colours for your card. Choose a non-standard colour for uniqueness, or even a full-colour design for the maximum impact.
More colours cost more money, so consider your budget before choosing a multi-colour design.
If you are on a budget and want to stick to a two-colour design, consider using the card stock as a third colour element in your design. You can also choose a bright or non-standard colour plus black for a sleek, stand-out look.
6. Standard Size, Nonstandard Material
If you want to stay with a standard-sized card but are looking for ways to stand apart from the crowd, using a non-standard material like foil, or even metal or wood, can help your card shine.
While non-standard materials make for unique cards, they do come with extra costs, since most printers need special machines to cut this kind of material.
7. Shining Stars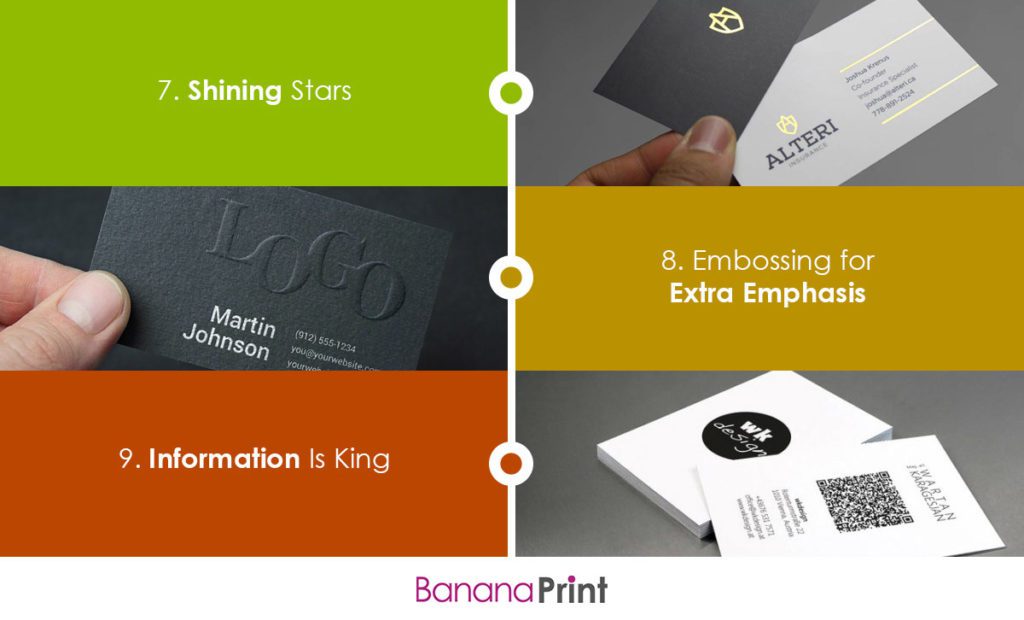 If you want to really catch a customer's eye, consider creating a design that includes a metallic touch.
Using foil accents in a variety of metallic colours — from gold and silver to iridescent — can draw the eye without overpowering the overall design of the card.
Foil designs work well with black-only artwork and add a touch of class to any card.
8. Embossing for Extra Emphasis
Embossing, or the art of creating a design or lettering that is slightly raised from the background, is another technique you can employ to create a great business card that garners attention.
Most embossing shows up shiny against a matte cardstock background, so the textural interest is doubled. Embossing is also associated with higher quality, as it is often used on other high-profile printed materials like wedding invitations and invitations to formal events.
9. Information Is King
No matter how well-designed your card is, if it doesn't have the information your customer needs, it's useless.
It's important to have the basic contact information — name, phone number, and email address on your cards. But you can also choose to have location maps, QR codes, website information, or even coupons and appointment reminders printed on your card's reverse side.
Be aware that too much information will crowd the card and make it difficult to navigate. Stick with the most critical informational points and save the rest for flyers or brochures.
10. A Picture — Worth a Thousand Words?
Having your picture on your card is a plus for business owners in a "people" business like real estate, insurance, and sales.
Being able to put your face with your name can be a big plus, especially if you are one of a number of people in your industry that your client does business with.
You could also use a picture — either in photograph form or a line drawing — of your product or service to embellish your card. Again, this keeps your unique selling proposition at the forefront of your customer's mind each time they look at your card.
11. Small or Big Batch Print Jobs?
With business cards, as with other printing jobs, the more you order, the cheaper your cost per card. Business cards are normally printed in batches ranging from 500 cards up, although you can sometimes find printers who will handle fewer cards for a premium.
If you know you'll be needing more cards down the line, it's best to order the largest quantity you can afford to get the best price.
12. Work with a Printer You Can Trust
Very few people have the ability to print their own quality business cards.
That means you should look for a professional printer with experience designing and printing cards for many different businesses.
Why Choose Banana Print for your Business Cards and Printing Needs?
Banana Print, an online print retailer, can handle jobs for any type of business and in numerous stock formats and design options.
You can upload one of their many pre-made designs or create your own and upload it for free. Importantly, Banana Print can handle jobs as small as 100 cards — a plus for small business owners — while easily tackling jobs up to 5,000 cards.
If you're in a hurry, that's no problem. Most of Banana Print's cards ship the next day, nicely packaged in rigid plastic boxes for maximum protection, so last-minute orders are not a problem.
Best of all, you can choose from standard weight, Kraft paper, foil, or nearly-indestructible tear- and waterproof cards in a variety of colours and textures, corner shapes, and lamination styles.
All prices include VAT, so there are no hidden fees or surprises — a plus when your business budget is tight. Banana Print stands behind their product with strong customer service and unbeatable quality.
In fact, Banana Print is so sure of their high quality and amazing service that they'll print you 50 business cards for free. There are fewer options with the free cards, but they come with the same sharp, state-of-the-art printing that is Banana Print's standard.
So, "What makes a good business card?" We think the question should really be "Who makes a good business card?" And the answer is Banana Print!