Luxury Business Card Design: How to Create Premium, High-Quality Business Cards
When you hand someone your business card — an industry colleague or a prospective client — you are giving them a lot of information about yourself and your work. Your name, job title, and contact information are all right there… but those aren't the elements that will leave a lasting impression.
The reality is that your business card tells people a lot about your company's ethos. Every aspect of the card's design, from the embossing to the paper quality, give people clues about the kind of company you work for (and, by extension, the kind of worker you are). This is why it's important to design on-brand, creative business cards — and why you need a high-end business card printing service to create luxury business cards.
What Exactly Is a Luxury Business Card?
A business card is a concise branding material that's both eye-catching and informative. Essentially, it's a compact version of a leaflet or flyer. It serves to offer a quick introduction for potential clients as well as enticing them to learn more. The element also ensures that a person or organization is memorable.
The term 'luxury' refers to a high-end finish. By creating a card that offers a sense of grandeur, you're showcasing your business as not only reputable but also superior to competitors. The goal with the style of a card is to catch the attention of buyers and cement your company as an industry authority.
Who Can Benefit From Luxury Business Cards?
Not all business cards offer a luxurious flair, but companies across a variety of industries benefit from the extra pizazz a card can provide. It's particularly significant for smaller businesses that are battling the marketing power of large corporations.

Creating luxury business cards helps to achieve several goals, including:
Highlight specialized services or products
Stand out in a competitive industry
Entice a high-end demographic
Showcase professionalism and quality character
Create an image of excellence
If your goals match any of these objectives, this style of business card is right for you.
5 Key Elements of a Business Card
When designing a business card, there are various style choices that need to be made. These options are available across the board of card categories. However, certain selections create a superior ambiance that takes your luxury business card to the next level. Here are your choices:
1. Shape
Before you can begin designing your business card, you need to decide on its shape. The shape of your card can be a great way to convey luxury or creativity. Most business cards are all the same size and shape, so a shape that's outside the norm can make for a unique, memorable, and premium business card.
Most business cards come in three main shapes:
Rectangle: This is the most classic business card shape. It is simple, straightforward, and allows you plenty of space for copy or contact information. However, don't mistake "simple" for "boring;" there are many things you can do to make a rectangular business card stand out, from elegant rounded corners to sophisticated embossed lettering.

Square: This unique shape is ideal for minimalist business card designs. On one side, you can print your contact information, and on the other you can display your company name or logo design!

Miniature:

Mini business cards

are thinner than your standard rectangular business card. This makes for a classic look — with just a little twist to keep things exciting.
What shape should you choose? The answer depends on the style you're trying to convey. Old-fashioned, professional business may want to use rectangle cards, while hip, artsy brands may benefit from a square or mini style. Choose the shape that best suits your brand.

2. Paper Stock & Materials
A business card is a tangible object. Clients and customers don't simply see or read them (like they do a website); they hold the cards in their hands, experiencing them with both their sense of sight and of touch. This is why it's so important to use premium paper in your business card design — paper that feels great can help convey an air of luxury.
Materials play a prominent role in luxury business card design. If you want your cards to feel ultra-luxurious, you need to look for paper stock or card stock with a little extra weight. Paper is measured in grams per square meter (GSM), so look for paper types that are at least 350 gsm or 400 gsm. This will ensure that you get a quality paper that leaves a lasting impression.
Additionally, you can use other materials to create an elegant or sophisticated business card. You can use gold foil or silver foil to add some shine to your design. Foil business cards look particularly elegant without being overstated, which makes them a popular choice. You could even print your business card on paper made from recycled silk. This results in an ultra-glossy card that's soft to the touch — certainly a memorable look.

3. Sides
One of the best things about bespoke business cards is that you have the freedom to design them however you choose. If you want to have a one-sided card, you can do that. If you want to use a two-sided design, that's possible too!
Two-sided designs are ideal if your company has a large or detailed logo. The double-sided option gives you plenty of space to print your logo and clearly print your contact information. However, if you want a clean, minimalist card that contains all information in one place, a single-sided business card may be right for you.

4. Coating
Card designs come with either an uncoated or coated laminate finish. While lamination is an absolute must-have, there are three options available: gloss, matte, and velvet. Matte is trendy but doesn't quite work for an upscale finish. To achieve that top-of-the-line look, opt for gloss or velvet. Gloss always makes an impact, but velvet offers an unmatched sense of luxury.

5. Corners
Luxury business cards are available with two corner styles — round and square. Both styles provide a first-class finish. However, round edges are less common, so choosing this feature could help your card stand out.

5 Expert Tips for Designing a Luxury Business Card
The key elements of a luxury business card are the foundation for the presentation. Some expert touches, however, can personalize the message your luxury business card will send. One of the biggest challenges of this aspect of the creation process is achieving a high-end look without falling into kitsch territory. Here are five valuable tricks to achieve a design that screams luxury and tastefulness.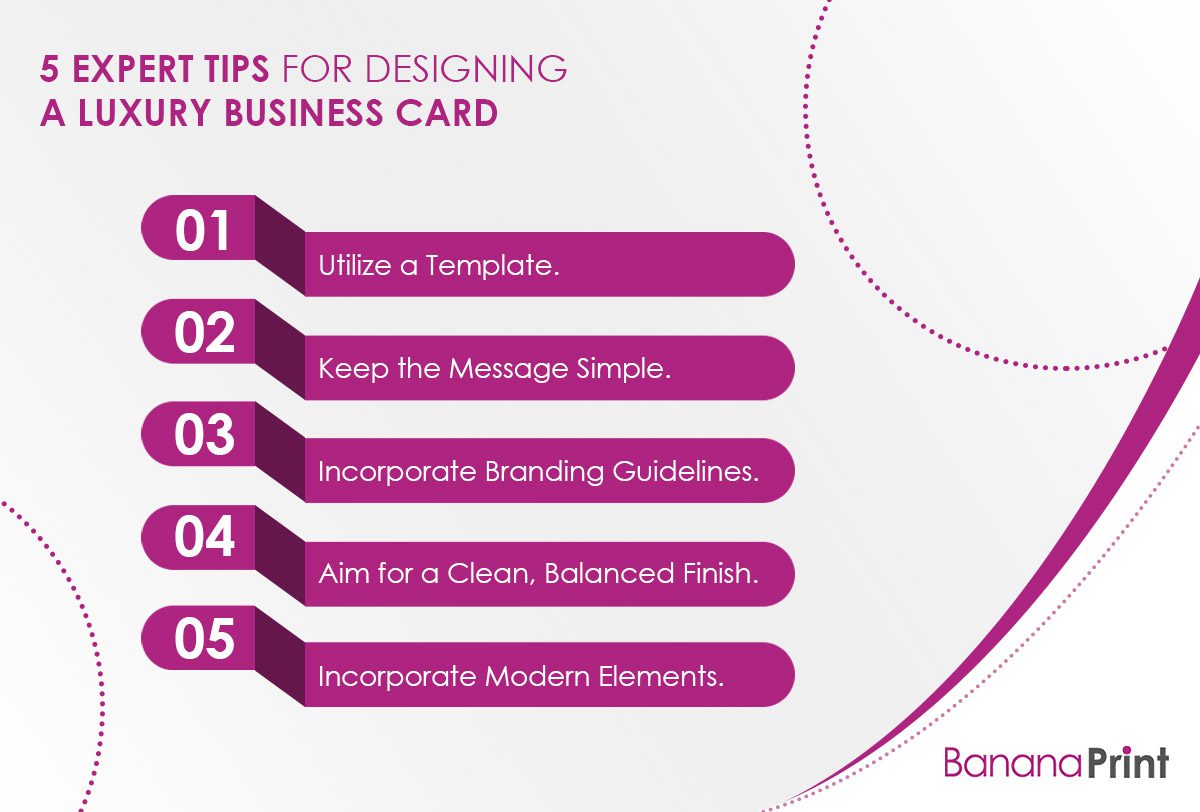 1. Utilize a Template
Unless you have years of experience with graphic design, it's best to start out with a business card template. The benefit of a template is that the layout is already blocked, so you don't have to worry about spacing. Even though you'll start with a pre-set design, you're still able to customize it with your company's branding. This process ensures you achieve the luxury finish without the time-consuming aspect of creating a layout from scratch.
2. Keep the Message Simple
Luxury business cards need to provide simple, concise messages. Basically, they combine the important contact information of stickers and labels with the personality of a compliment slip. As a result, you need to include these basic elements:
Business name
Phone number
Email
Geo-information
Tagline
Services or products
The geographical information doesn't need to include the full address. Instead, it simply needs to provide a key point, such as region, city name, or district. If your main hub is located on a historic street, then use copy that highlights it, like "Located on Historic Maple Drive". For services or products, don't list out what the company offers. Instead, choose a term or short phrase that summarizes the full spectrum. If your tagline includes information that covers either geographical, industry or both, then you can avoid adding them in separately.
To test the simplicity of your luxury business card, show your design to fresh eyes. The person should know exactly what message the card is communicating within 30 seconds. If it takes longer, then try to declutter the information or try a different arrangement.
3. Incorporate Branding Guidelines
This step involves the base branding elements that are featured on your other business materials, like letterheads and folded leaflets. Nothing screams "luxury" like cohesiveness, so utilize the same logo, color palette, and typography across the board. When a person sees your branding elements, they should instantly know it's your company.
4. Aim for a Clean, Balanced Finish
High-quality graphic design is all about balance. This trait is incredibly important for small mediums, like business cards. If you include too many colors, images, or details, it overwhelms the eye and creates a sense of chaos. Since you're going for luxury, you want to achieve the complete opposite effect.
To do this, focus your attention on creating a sense of balance. For example, a background of dark or bright colors are beautifully balanced by light typography and vice-versa. Such contrast ensures the important details jump right off the card and into the mind of potential clients.
5. Incorporate Modern Elements
Just because business cards are tangible doesn't mean you can't include a touch of technology. QR codes are one of the most popular examples of this step, which is an element that's also popular on postcards. You can create a code that directs clients to a landing page that highlights all of the information that doesn't fit on a card, such as special deals, services or products, and a call-to-action. Or, utilize the code as a direct link to your online portfolio or resume for the ultimate 'wow' factor.
Hashtags are also easily incorporated into the card design because they're small and easy to digest. If you don't have one already, create a unique hashtag that's short and easy to remember. Also, be sure to place it on the card along with your business' social media handles.
Order Your Luxury Business Cards Today
A business card serves as your clients' first introduction to your company, so it's vital that you choose a style and design that represents your brand. At Banana
Print, we make ordering personalized branding materials a breeze. We offer an online design tool to help you achieve the high-end, customized look that you want, at an affordable rate. Plus, our 24-hour turnaround ensures your products arrive quickly.
Not sure which design is right for your company? Order our sample pack today to find the perfect luxury business card for your needs!